Arena R3 - Results and Records
18/12/2019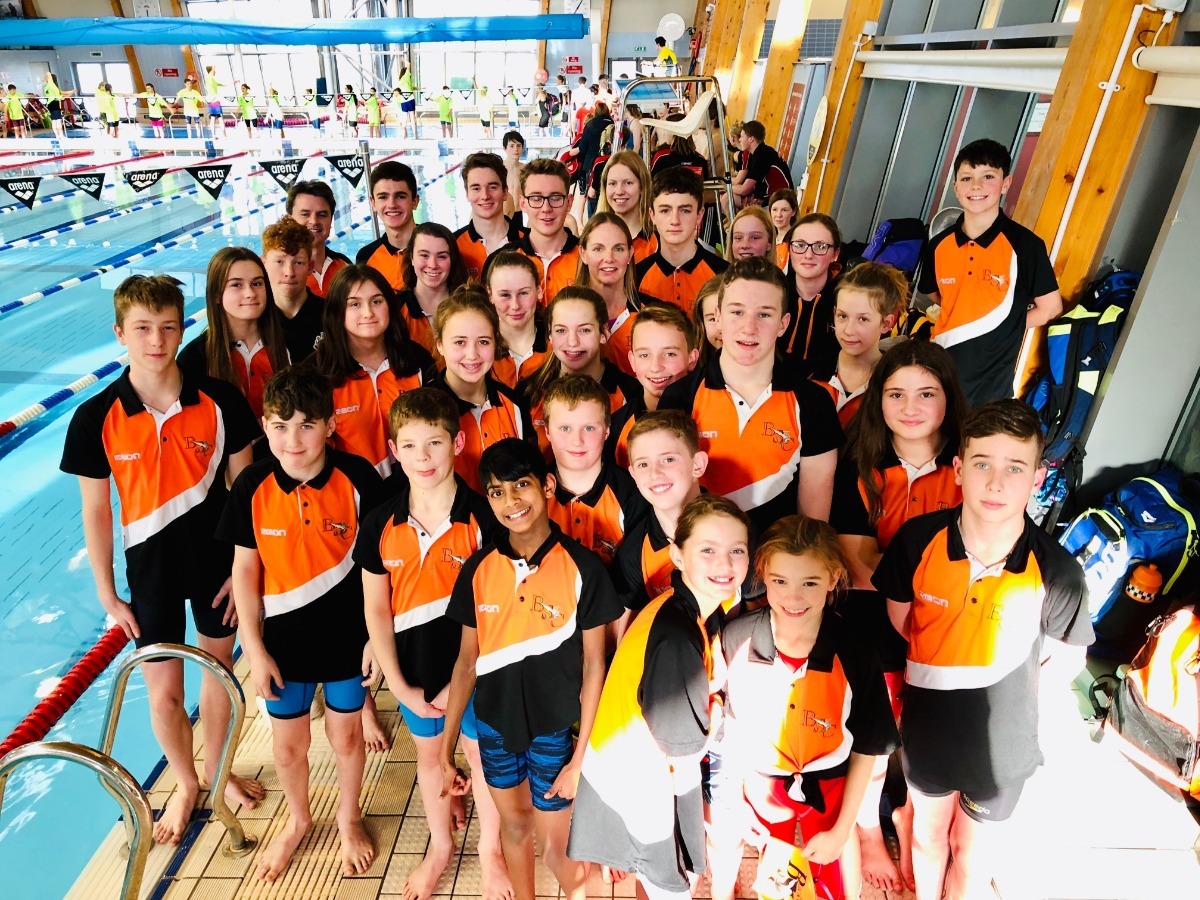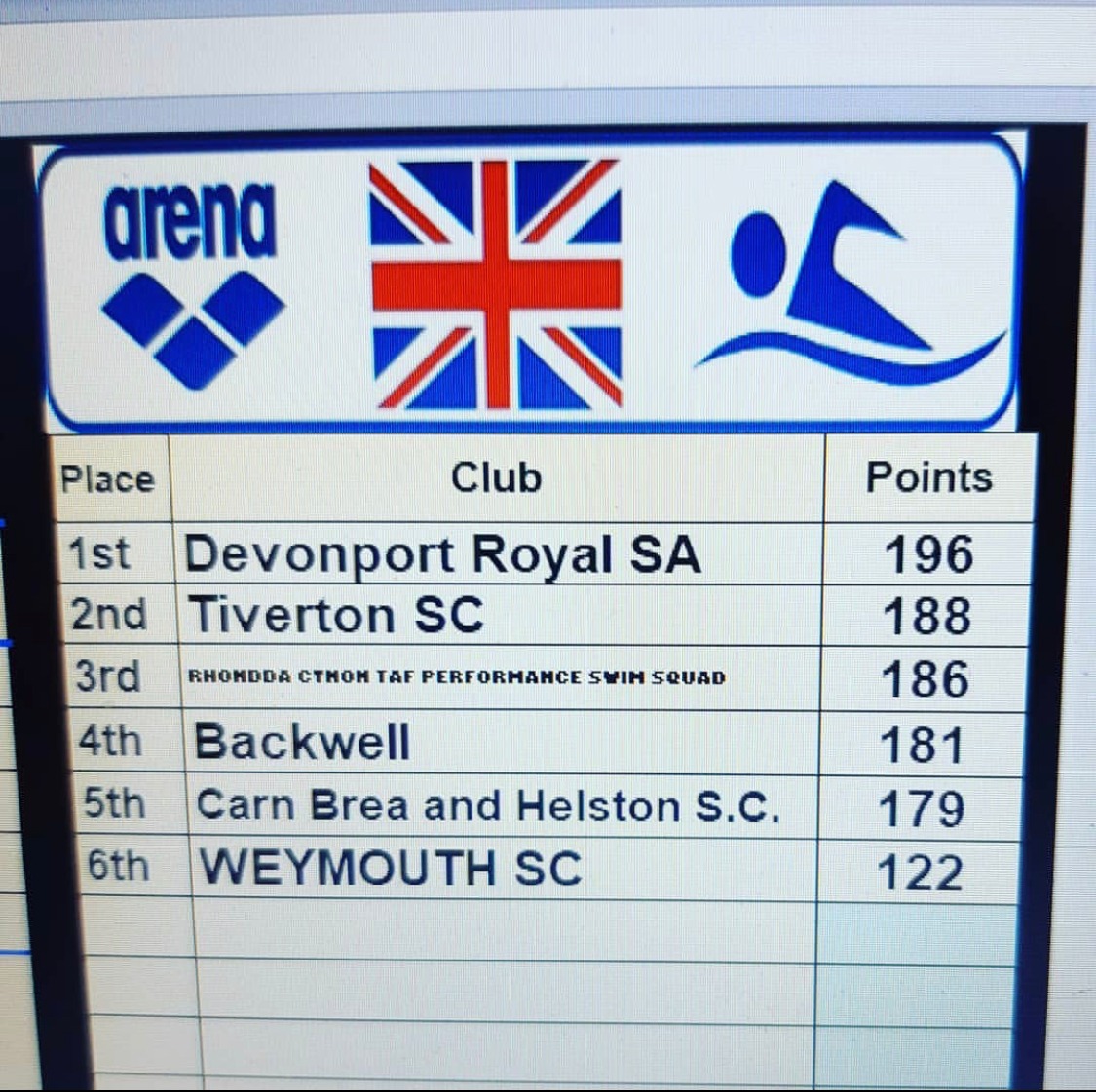 The final round of Arena League 2019 took place on Saturday 14th December at Horfield Leisure Centre. This has been a hard fought campaign this year where we have faced very stiff competition. Our amazing swimmers have really stepped up to the challenge and Saturday was no exception.
Overall there were 14 individual PB's set on the night with 4 club records being broken (Phil D in the 25+ 100m Breast, Reece L in the 16yr 100m Back, Eddie R in the 14yr 100 Fly and Guus V in the 17yr 200IM).
There were also 2 club relay records broken.. in both the Men's Open and Women's Open Medley relays. Well done to Reece L, Guus V, Phil D and Ben C in the Men and Bex G, Holly C, Molly J and Kerri R in the Women.
Final positions on the night had less than 10 points separating 5th from 2nd... and only 17points separating 5th from 1st. It was incredibly tight throughout.
Well done to all the swimmers who took part and thanks to all the coaches and volunteers for all their help over the course of the league this year.
Full results below
Event #
Swimmer
Distance
Stroke
Swim Time
Position
Round
1
Cocks, Holly
200m
Medley
02:28.37
3
2
Verkade, Guus
200m
Medley
02:24.39
4
3
Jezard, Charlotte
Main, Ailsa
Evans, Maisie
Hudnott, Rosie
200m
Free
02:28.32
6
4
West, Harry
Cocks, Charlie
Carter, George
Cullen-Davis, Eli
200m
Free
02:29.14
4
5
Tancell, Lydia
Hunter, Lily
Dodd, Elizabeth
Rubino Ilsley, Florence
200m
Medley
02:22.20
4
6
Shah, Ravi
Lowe, George
Cocks, Jamie
Jackson, Oliver
200m
Medley
02:26.90
3
7
Hollier, Becca
Hunter, Lily
Manners-Lolley, Daisy
Manners-Lolley, Simone
200m
Free
02:05.90
5
8
Richardson, Eddie
Hewitson, Woody
Budworth, Jude
Lenthall, Finley
200m
Free
01:50.83
1
9
Rogers, Kerri
Jackson, Molly
Cocks, Holly
Gooch, Rebecca
200m
Medley
02:11.03
2
10
Lenthall, Reece
Duma, Phillip
Verkade, Guus
Cusack, Ben
200m
Medley
01:56.65
2
11
Jezard, Charlotte
50m
Back
00:37.50
1
12
West, Harry
50m
Back
00:41.19
4
13
Hunter, Lily
100m
Breast
01:28.82
5
14
Lowe, George
100m
Breast
01:22.88
3
15
Hollier, Becca
100m
Back
01:10.97
3
16
Hewitson, Woody
100m
Back
01:07.70
2
17
Gooch, Rebecca
100m
Fly
01:07.72
1
18
Verkade, Guus
100m
Fly
01:06.33
4
19
Jezard, Charlotte
50m
Fly
00:37.34
2
20
Cocks, Charlie
50m
Fly
00:44.52
4
21
Tancell, Lydia
100m
Back
01:22.44
4
22
Cocks, Jamie
100m
Back
01:18.46
3
23
Manners-Lolley, Daisy
100m
Fly
01:14.50
4
24
Richardson, Eddie
100m
Fly
01:11.01
2
25
Cocks, Holly
100m
Back
01:07.88
2
26
Lenthall, Reece
100m
Back
01:01.88
2
27
Hudnott, Rosie
50m
Breast
00:48.12
6
28
Cocks, Charlie
50m
Breast
00:49.52
5
29
Dodd, Elizabeth
100m
Fly
01:18.08
5
30
Cocks, Jamie
100m
Fly
01:27.32
5
31
Hollier, Becca
100m
Free
01:08.62
5
32
Hewitson, Woody
100m
Free
01:01.51
2
33
Jackson, Molly
100m
Breast
01:27.06
6
34
Duma, Phillip
100m
Breast
01:14.26
3
35
Evans, Maisie
50m
Free
00:39.21
6
36
Carter, George
50m
Free
00:36.22
3
37
Dodd, Elizabeth
100m
Free
01:07.87
4
38
Lowe, George
100m
Free
01:09.82
3
39
Manners-Lolley, Daisy
100m
Breast
01:26.31
3
40
Lee, Shaza
100m
Breast
01:23.38
3
41
Gooch, Rebecca
100m
Free
01:00.76
2
42
Cusack, Ben
100m
Free
00:57.15
2
43
Jezard, Charlotte
Hudnott, Rosie
Evans, Maisie
Main, Ailsa
200m
Medley
02:49.62
5
44
West, Harry
Stokes, Christopher
Cocks, Charlie
Carter, George
200m
Medley
02:57.89
4
45
Dodd, Elizabeth
Hunter, Lily
Tancell, Lydia
Rubino Ilsley, Florence
200m
Free
02:10.56
4
46
Lowe, George
Cocks, Jamie
Jackson, Oliver
Shah, Ravi
200m
Free
02:11.94
4
47
Hollier, Becca
Hunter, Lily
Manners-Lolley, Daisy
Manners-Lolley, Simone
200m
Medley
02:22.38
5
48
Hewitson, Woody
Lee, Shaza
Richardson, Eddie
Budworth, Jude
200m
Medley
02:07.44
1
49
Gooch, Rebecca
Cocks, Holly
Rogers, Kerri
Main, Naomi
Hollier, Becca
Jackson, Molly
300m
Free
02:56.07
1
50
Cusack, Ben
Lenthall, Reece
Verkade, Guus
Duma, Phillip
Hewitson, Woody
Richardson, Eddie
300m
Free
02:37.31
2
---