Training times & Fees 2018/19
Training Times for our various squads and stages can be found in the table below:
All training takes place at Backwell Leisure Centre unless stated.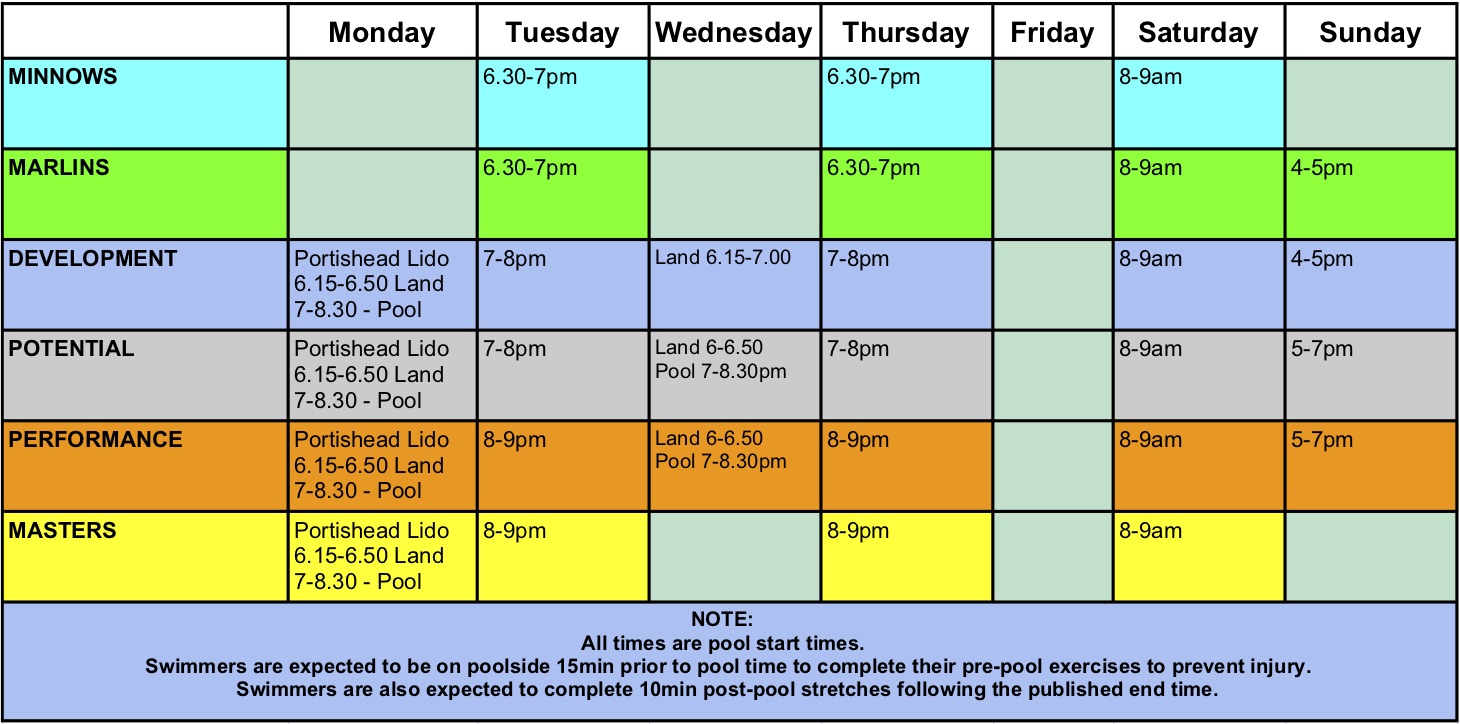 NB: Monday's at Portishead Lido are seasonal and exact dates are notified separately.
Swimmers in squads are expected to complete 15min pre-pool conditioning and 10min post pool stretching for each session. Times stated are just pool times. Please ensure you arrive in plenty of time to complete pre-pool.
Fees for the Club are broken down into an annual membership fee (payable in September for rejoining members or at the time of joining for new members) and a monthly squad fee which is payable on, or before, 15th of each month for that month's fees (eg, 15th September for September Fees)
Annual Membership:
Squad
Fee
Learn To Swim (Stages 1-6)
No Annual Membership fee - fee included in termly costs.

All Squads (Minows, Marlins, Development, Potential, Performance, Masters)

£46 for 1 swimming member of family

£80 for 2 swimming members of family

£95 for 3+ swimming members of family

Student Swimmer

£32.00 (Competitive)

£16 (non-competing)

Associate Member
£16
Monthly Training Fees:
(including entry cost to all Club Championship events for which eligible)
Training Squad
Fees
Learn To Swim (Stages 1-6)
£6.50 per session - paid termly
Minnows Squad
£30
Marlins Squad
£34
Development Squad
£37
Potential Squad
£41
Performance Squad
£42
Masters Squad
£28
Student Members
£4.50 per swim (Max £36 per month)
CoB Swimmers
0 Sessions p/w £3.50 per month
1 Session p/w £12.50 per month
2 Sessions p/w £19 per month