Cotswold B Final Results
28/04/2019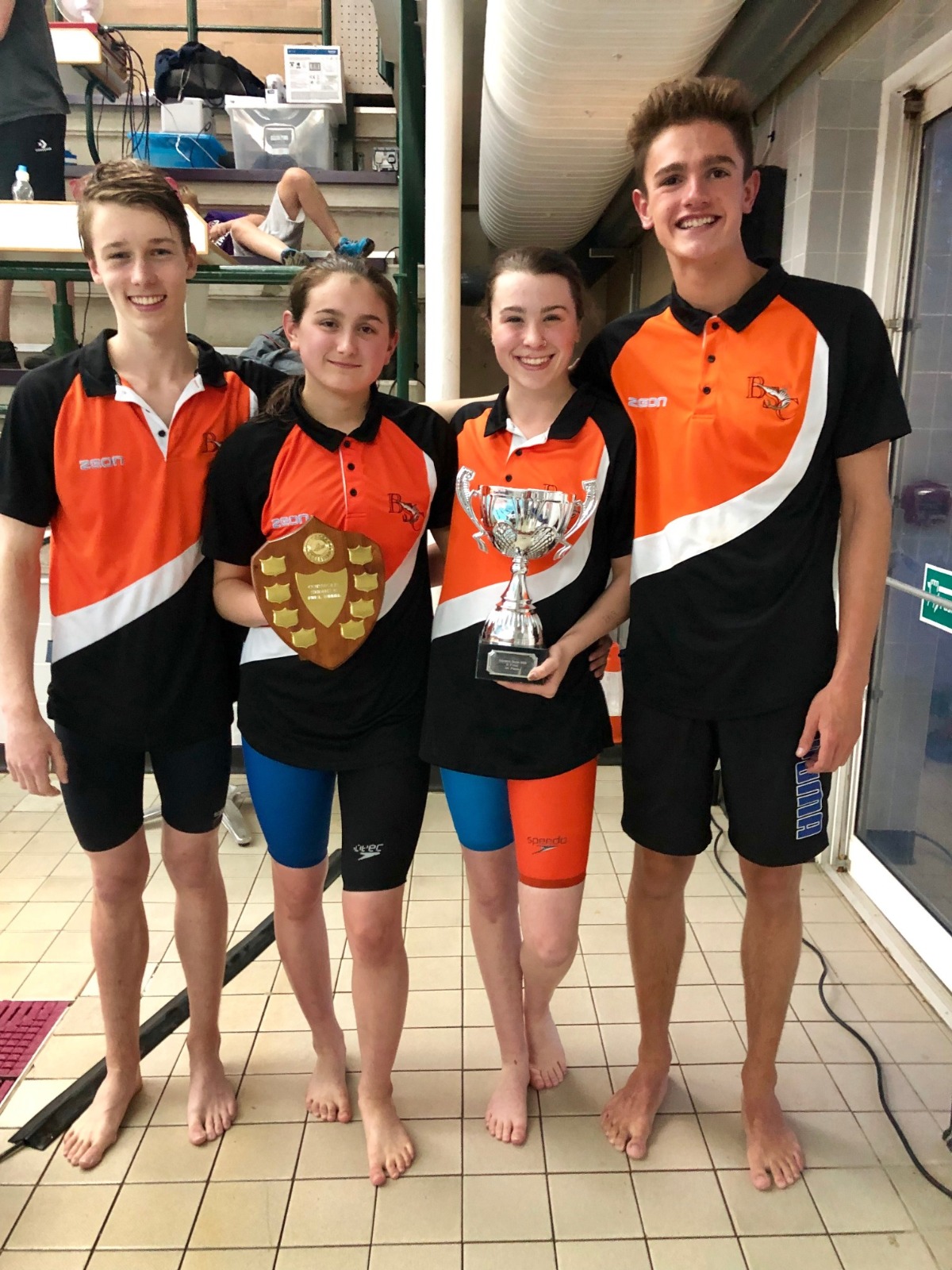 WOW! What an incredible final... just 2 points in it at the end separating 1st from 2nd... but #TeamBackwell we're the ones with 2 points more than anyone else at the end.. and the B Final trophy is ours! - well done to everyone swimming on the night... every point mattered and you all pulled it out of the bag! Huge well done also to any swimmer who took part in any of the 4 rounds... this win is down to everyone's hard work!!
Thanks, as ever, to all our amazing volunteers and coaches for all their hard work... it's all worth it! Club Captains Stan, Kerri, Daisy and Reece took the honours in collecting the trophy and the shield.
11 PB's in Total, 8 1st places, 15 2nd places, 13 3rd places, 7 4th places, 7 5th places and 2 6th places is what got us our total in the end. Every point mattered.
Final Results
Backwell 212
Bath Dolphins 210
Bristol North 199
Bristol Henleaze 160
Cheddar Kingfishers 157
Taunton 156
Full results below
Event #
Swimmer
Distance
Stroke
Swim Time
Position
Round
1
Drummond, Ava
100m
Medley
01:18.46
2
2
Elsworthy, Ben
100m
Medley
01:12.63
2
3
Main, Naomi
100m
Medley
01:15.79
3
4
Richardson, Stanley
100m
Medley
01:12.65
4
5
Foster, Gaby
25m
Free
00:19.57
6
6
Cocks, Charlie
25m
Free
01:18.26
4
7
Adams, Megan
50m
Breast
00:44.00
2
8
Cocks, Jamie
50m
Breast
00:44.24
1
9
Drummond, Ava
50m
Back
00:36.28
4
10
Lenthall, Finley
50m
Back
00:34.43
4
11
Hollier, Becca
100m
Fly
01:14.55
2
12
Verkade, Guus
100m
Fly
01:03.33
3
13
Jezard, Charlotte
White, Eleanor
Evans, Maisie
Foster, Gaby
100m
Medley
01:24.99
6
14
Shah, Ravi
Stokes, Christopher
Clarke, Phillip
Cocks, Charlie
100m
Medley
01:24.60
3
15
Hunter, Lily
Carrier, Chazzy
Adams, Megan
Scott-Green, Jenna
100m
Free
01:04.97
3
16
Lenthall, Finley
Verkade, Wouter
Cocks, Jamie
Andrews, Toby
100m
Free
00:59.87
1
17
Hollier, Becca
50m
Breast
00:39.50
2
18
Rhodes, Alex
50m
Breast
00:39.54
5
19
Rogers, Kerri
100m
Back
01:14.40
1
20
Richardson, Stanley
100m
Back
01:08.78
3
21
Rubino Ilsley, Florence
25m
Fly
00:20.39
5
22
Shah, Ravi
25m
Fly
00:20.56
3
23
Carrier, Chazzy
50m
Free
00:34.90
5
24
Lenthall, Finley
50m
Free
00:30.49
0
25
Drummond, Ava
Adams, Megan
Manners-Lolley, Daisy
Hollier, Becca
200m
Medley
02:26.31
2
26
Elsworthy, Ben
Rhodes, Alex
Richards, Daniel
Richards, Joshua
200m
Medley
02:14.03
1
27
Rogers, Kerri
Main, Naomi
Manners-Lolley, Daisy
Williams, Isabella
200m
Medley
02:21.04
2
28
Richardson, Stanley
Lee, Shaza
Verkade, Guus
Richards, Daniel
200m
Medley
02:06.33
2
29
Jezard, Charlotte
25m
Back
00:18.95
4
30
Stokes, Christopher
25m
Back
00:21.05
5
31
Hunter, Lily
50m
Fly
00:36.47
3
32
Verkade, Wouter
50m
Fly
00:35.71
1
33
Manners-Lolley, Daisy
50m
Free
00:34.57
4
34
Richards, Daniel
50m
Free
00:29.11
3
35
Main, Naomi
100m
Breast
01:27.15
2
36
Lee, Shaza
100m
Breast
01:21.89
2
37
Rubino Ilsley, Florence
Jezard, Charlotte
Evans, Maisie
Foster, Gaby
100m
Free
01:13.11
4
38
Jackson, Oliver
Clarke, Phillip
Shah, Ravi
Cocks, Charlie
100m
Free
01:09.75
3
39
Carrier, Chazzy
Adams, Megan
Hunter, Lily
Scott-Green, Jenna
100m
Medley
01:16.17
5
40
Lenthall, Finley
Andrews, Toby
Cocks, Jamie
Verkade, Wouter
100m
Medley
01:11.26
1
41
Manners-Lolley, Daisy
50m
Fly
00:34.07
2
42
Richards, Joshua
50m
Fly
00:32.38
2
43
Rogers, Kerri
100m
Free
01:07.93
3
44
Verkade, Guus
100m
Free
00:57.38
3
45
White, Eleanor
25m
Breast
00:25.13
5
46
Jackson, Oliver
25m
Breast
00:23.67
2
47
Scott-Green, Jenna
50m
Back
00:42.76
5
48
Cocks, Jamie
50m
Back
00:38.38
2
49
Hollier, Becca
Drummond, Ava
Manners-Lolley, Daisy
Hunter, Lily
200m
Free
02:03.98
1
50
Lee, Shaza
Elsworthy, Ben
Rhodes, Alex
Richards, Joshua
200m
Free
01:59.40
1
51
Rogers, Kerri
Hollier, Becca
Main, Naomi
Williams, Isabella
200m
Free
02:04.44
2
52
Richards, Joshua
Richardson, Stanley
Verkade, Guus
Lee, Shaza
200m
Free
01:51.15
3
53
Rubino Ilsley, Florence
Jackson, Oliver
Hunter, Lily
Andrews, Toby
Drummond, Ava
Richards, Daniel
Main, Naomi
Richardson, Stanley
200m
Free
01:59.08
3
---