Cotswold R1 Results
14/01/2020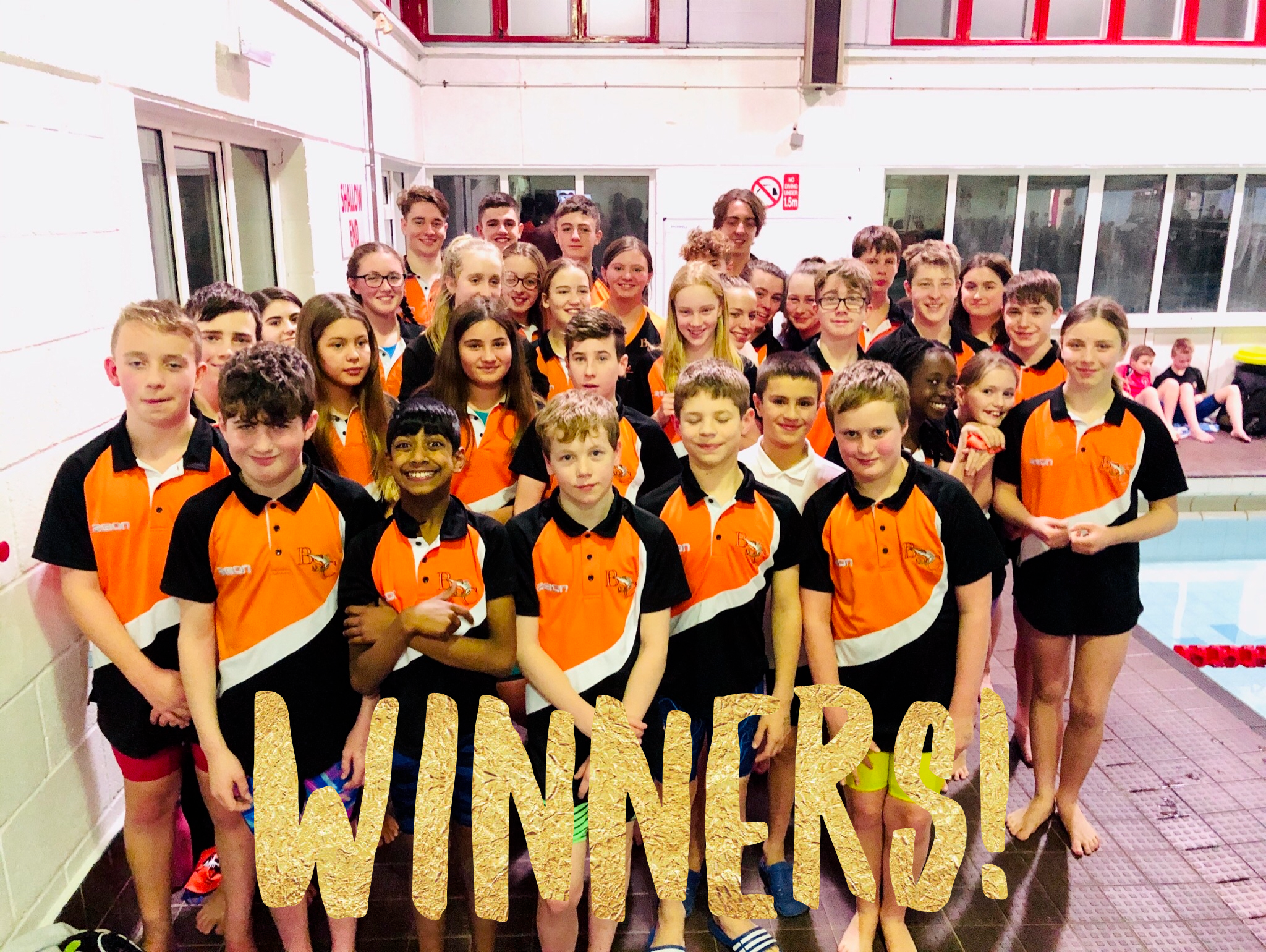 Fantastic swimming from our brilliant swimmers at the first round of the Cotswold League 2020. Backwell were hosting and the atmosphere in our home pool was electric. We were facing tough competition from our neighbours in City of Bristol, Bristol Penguins and Cwmbran Otters.
#TeamBackwell swimmers did themselves proud setting 19 PB's on the night and even two club records (well done Reece L in the 16yr boys 100m Free and IM events). Most important of all was the amazing team spirit on display... with the whole team supporting each other when they swam enabling everyone to give their best!
Thanks, as ever, to our volunteers and coaches for helping make the event go so smoothly!
Full results below
Event #
Swimmer
Distance
Stroke
Swim Time
Position
Round
1
Dodd, Elizabeth
100m
Medley
01:21.10
3
2
Richardson, Eddie
100m
Medley
01:09.48
0
3
Main, Naomi
100m
Medley
01:16.00
1
4
Lenthall, Reece
100m
Medley
01:05.70
0
5
Moores, Amelie
25m
Free
00:16.94
1
6
Liddell, Alex
25m
Free
DQ (4.4)
0
7
Langley, Grace
50m
Breast
00:43.15
2
8
Jackson, Oliver
50m
Breast
00:43.36
1
9
Scott-Green, Jenna
50m
Back
00:41.80
3
10
Lenthall, Finley
50m
Back
00:32.25
0
11
Hollier, Becca
100m
Fly
01:13.54
1
12
Verkade, Guus
100m
Fly
01:06.17
1
13
Main, Ailsa
Aromasodu, Tami
Jezard, Charlotte
Moores, Amelie
100m
Medley
01:19.61
2
14
Liddell, Alex
Cocks, Charlie
West, Harry
Gottlieb, Zente
100m
Medley
01:24.92
2
15
Rubino Ilsley, Florence
Lee, Anaska
Wood, Ruby
Williams, Lily
100m
Free
01:04.04
1
16
Shah, Ravi
Jackson, Oliver
Cocks, Jamie
Blundell, Finn
100m
Free
01:04.25
1
17
Manners-Lolley, Daisy
50m
Breast
00:40.65
1
18
Rhodes, Alex
50m
Breast
00:39.79
3
19
Rogers, Kerri
100m
Back
01:16.39
1
20
Lee, Shaza
100m
Back
01:11.67
2
21
Jezard, Charlotte
25m
Fly
00:17.16
1
22
Carter, George
25m
Fly
00:19.50
3
23
Wood, Ruby
50m
Free
00:32.66
1
24
Blundell, Finn
50m
Free
00:34.35
2
25
Hollier, Becca
Manners-Lolley, Daisy
Dodd, Elizabeth
Scott-Green, Jenna
200m
Medley
02:27.29
1
26
Verkade, Wouter
Rhodes, Alex
Sparks, Oliver
Thomas, Dan
200m
Medley
02:23.36
2
27
Rogers, Kerri
Main, Naomi
Cocks, Holly
Williams, Isabella
200m
Medley
02:20.43
1
28
Lenthall, Reece
Lee, Shaza
Verkade, Guus
Richardson, Eddie
200m
Medley
02:03.94
1
29
Main, Ailsa
25m
Back
00:20.04
2
30
West, Harry
25m
Back
00:20.31
3
31
Rubino Ilsley, Florence
50m
Fly
00:36.92
2
32
Cocks, Jamie
50m
Fly
00:37.79
2
33
Hollier, Becca
50m
Free
00:31.97
1
34
Thomas, Dan
50m
Free
00:30.78
1
35
Manners-Lolley, Daisy
100m
Breast
01:28.67
2
36
Verkade, Guus
100m
Breast
01:21.38
2
37
Jezard, Charlotte
Aromasodu, Tami
Main, Ailsa
Moores, Amelie
100m
Free
01:10.64
1
38
Cocks, Charlie
Gottlieb, Zente
Carter, George
Liddell, Alex
100m
Free
01:12.11
3
39
Lee, Anaska
Williams, Lily
Langley, Grace
Rubino Ilsley, Florence
100m
Medley
01:18.47
2
40
Shah, Ravi
Jackson, Oliver
Cocks, Jamie
Blundell, Finn
100m
Medley
01:15.65
1
41
Dodd, Elizabeth
50m
Fly
00:34.13
1
42
Sparks, Oliver
50m
Fly
00:35.01
3
43
Cocks, Holly
100m
Free
01:04.69
1
44
Lenthall, Reece
100m
Free
00:56.97
1
45
Aromasodu, Tami
25m
Breast
00:24.09
3
46
Cocks, Charlie
25m
Breast
00:22.26
2
47
Lee, Anaska
50m
Back
00:41.40
2
48
Shah, Ravi
50m
Back
00:39.85
2
49
Hollier, Becca
Manners-Lolley, Daisy
Dodd, Elizabeth
Scott-Green, Jenna
200m
Free
02:12.32
1
50
Lenthall, Finley
Verkade, Wouter
Thomas, Dan
Richardson, Eddie
200m
Free
01:58.47
1
51
Rogers, Kerri
Cocks, Holly
Main, Naomi
Dodd, Elizabeth
200m
Free
02:02.55
1
52
Verkade, Guus
Lenthall, Reece
Lee, Shaza
Richardson, Eddie
200m
Free
01:49.19
1
53
Jezard, Charlotte
West, Harry
Wood, Ruby
Cocks, Jamie
Scott-Green, Jenna
Lenthall, Finley
Rogers, Kerri
Lenthall, Reece
200m
Free
02:01.58
1
---